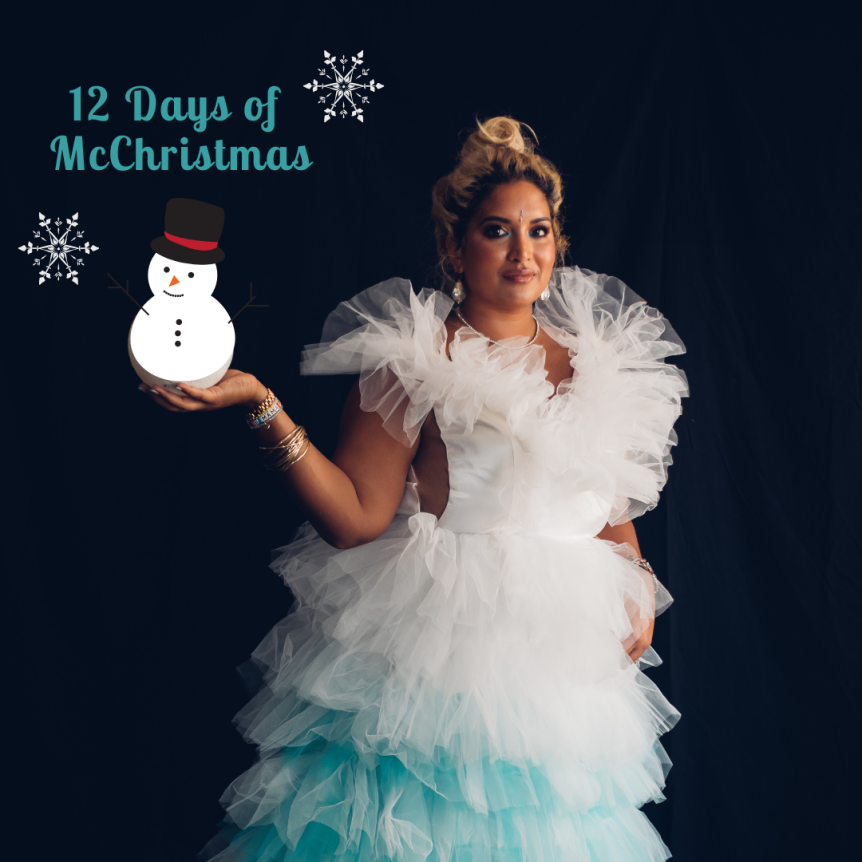 12 Days of McChristmas: Jaya's Favorite Things 2021!
WE DONE DONE IT AGAIN Y'ALL! It's our second annual #McChristmas celebration with a blog of all my favorite things! Last year we started this tradition to help out small bizzes affected during the pandemic…and it turned out to be the *MOST* popular blog post of the year!
We know that if you're reading this, you're someone who wants to get the most perfect, unique Christmas gifts while ALSO supporting entrepreneurs and hustlers who are brave enough to follow their dreams. With hard work, a sprinkle of magic, and a lot of reminders from my social media manager Jessica, we put together another amazing list for you to shop from.
SUPER HOT SUPER IMPORTANT TIPS
BOOKMARK this page so you can come back to it often. There's a lot of info on here, and we want you to peruse it at your pleasure!
USE THE DISCOUNT CODES. All of the small businesses have agreed to use the discount codes so we can track where orders are coming from. IF you really don't want to use it (this was an issue last year!), MAKE SURE to mention the code to the small business so we can track how effective our promotion is! This helps us do better every year!
SHARE!

Duh! More eyes = more love for these small businesses. Many, if not all, will ship nationwide, so share with your friends all over the country to boost that Dreamport love locally.
WITHOUT FURTHER ADO……. Here are your 2021 McChristmas HONOREES! #Theseareafewofmyfavoritethings 
A baker I am not, but a foodie I most certainly am! Fellow foodie Irina Ghattas turned me onto the sampler box, and they were ALL DELISH. (My fave was the pimento cheese, but I'm a cheesy-mc-cheesy lovin' FOOL.) Shreveport Cottage Homestead also does corporate gifting and makes your favorite biscuit accessories, including whipped butters, cottage yard eggs, jams, and more!
Why we love this small business: Kanya offers private biscuit baking classes and not one of the 17 times I messaged her asking how to bake the biscuits did she bite my head off.
Fun fact about Kanya: She's visited 47 states and lived in ten of them! #stayhereplease!
Perfect for: People with mouths (also hello WORKPLACE GIFTING)
Discount code: Use code DOCTORJAYA for 15% off ALL BISCUITS! YA WELCOME!
Shreveportcottagehomestead.com
@Shreveportcottagehomestead on FB/Insta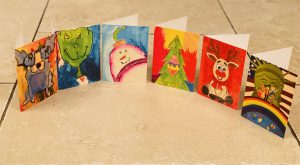 PRECIOUS ANGEL is raising funds for Roy's kids and for a classmate with cancer. I can't. ALL PROCEEDS GO TO CHARITY.
Why we love her: She has donated to numerous charities in the past including St Judes, Food Bank of Northwest Louisiana, Humane Society of North West Louisiana, and Roy's Kids. She has been featured on Facebook pages of the Humane Society of North West Louisiana and Roy's Kids for her donations. 
For Christmas, she has adopted a kid for Roy's Kids and is also raising money for a Christmas surprise for a classmate who was diagnosed with cancer. 
Fun fact about Sophie: One of her paintings was auctioned off for $1,000, with all proceeds going to a charity for local children.
Perfect for: Idk, anyone with a heart?! "Every gift needs a handwritten card and what can be better than a handmade card that benefits charities? Win-win all over!" 
Discount code: DOCTORJAYA for 10% off but honestly, did you read anything I wrote above….
https://www.etsy.com/shop/MagicUnicornBySophie
@MagicUnicornbySophie on FB/Insta
3. This

#BlackBoyJoy bamboo suction plate

by Tre's Lunchbox. (#BlackGirlMagic plate available for pre-order, delivers 1/10)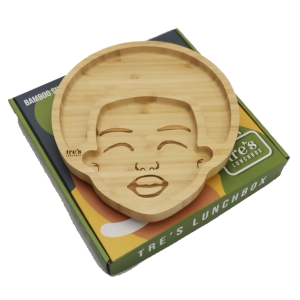 SO JOYOUS! SO ADORBS! This biodegradable, sustainable suction plate keeps your little's food in place and also separated for the future OCD eater.  (Also comes in black girl magic!)
Why we love this small biz: Desiree Mingo is an entrepreneur and mother who is "on a mission to change the way the world serves children. We nurture children and their futures through modern, safe, and sustainable feeding accessories that celebrate food, family, and fun!"
Fun fact about Desiree: She has a degree in Biology!
Perfect for: Anyone who has children!
Discount code: DOCTORJAYA for 15% off the entire order!
@treslunchbox on FB/Insta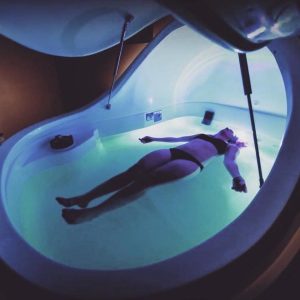 I actually chronicled my first float tank experiences here if you want to read all about it. Ever since my first float in the water with 950 lbs of Epsom Salt, I have been HOOKED. It's meditative, deep rest that can compensate for fatigue, sleeplessness, and chronic pain. I honestly can't think of anyone it WOULDN'T benefit. 
Why we love them: Richard, the owner, is passionate about helping people relieve stress and pain. I send people to him all the time because I know he will work with them on pricing and packages because he believes in his product and knows that it works! 
Fun fact about Richard: He's been a massage therapist for 23 years! 
Perfect for: ANYONE. You are giving them THEM time. Time away from the holiday madness and a chance to decompress. They will sleep like a baby that night! 
Discount code: No Code needed! Buy 2 floats, get one free! Online or in-store!Please mention Dr. Jaya as a referral for tracking purposes. 
FB: Driftaway Float Center Bossier City La.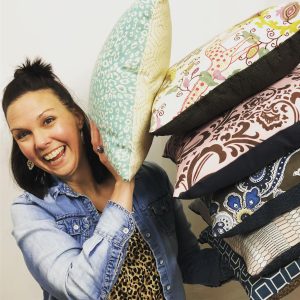 Elizabeth Lewis is an avian enthusiast who donates part of the proceeds from her hand-sewn, luxury throw pillows back to birding lands and birding education. Each pillow is one-of-a-kind, just like your giftee!
Why we love her: BIRDS! SUSTAINABILITY! GORGEOUSNESS! "Audubon Parish Throw Pillows searches high and low for sustainable American fabrics to turn into beautiful throw pillows. Each pillow is made with fabric that would end up in a landfill. All of our decorative pillows are proudly handmade in Shreveport, Louisiana one at a time."
Fun fact about Elizabeth: Elizabeth was a radio personality for 16 years. "You have heard my voice thousands of times in North Louisiana over the years, and I'm on the radio currently – but you would never know it's me!" 
Perfect for: People who like fancy and fluffy things and also the environment!
Discount code: DOCTORJAYA for 10% off the whole month of December!
@audubonparish on FB/Insta
You may remember Kelly from last year as she is a repeat #fave! My love for her has only grown, along with her collection! Fun, funky, and fabulous resin and polymer clay earrings that are so lightweight and fun to wear! I always get compliments when I wear them.
Why we love her: When I was having my mental breakdown re: COVID, she sent me a handwritten note and gorgeous earrings for free just to brighten my day. UGH LOVE HER. She is also the caregiver for her husband who was involved in a disastrous accident (which he survived!) and is slowly improving every day after months of rehab. All this while also working full-time as a PA. Mamma mia <3 
Perfect for: Anyone with ear holes and a sense of fashion adventure!
Fun fact about Kelly: She's an introvert (which I never would have guessed because she does a million things for the community!) (I mean not that introverts can't contribute to the community)(Crap) (Am I canceled?) (I'm just saying I see her out frequently and wouldn't have guessed!)(I LOVE INTROVERTS OKAY I AM MARRIED TO ONE!)
Discount code: DOCTORJAYA for 15% off!
@LAROArtbyKellyMoeller on FB/ @LARO_Art_by_Kelly_Moeller on Insta
Ben is another repeat spotlight for #jayasfavoritethings and for good reason! His mask spray helped with my maskne at work and his all-natural wellness products are a local hit at every market he frequents. 
Why we love Ben: He donated boxes of hand sanitizer to frontline workers during the worst times of COVID. When I tell you it made so many nurses' days to get that amazing smelling hand sanitizer in their hands! It was like a bright Christmas morning in the midst of lots of darkness….
Perfect for: Anyone with skin. He also had beard oil and deodorant! 
Fun fact about Ben: He's a huge Marvel nerd! (UM DUH LIKE ALL AWESOMESAUCE PPL)
Discount code: DOCTORJAYA for 10% off!
@bensbodybasics on FB/Insta 
8. These dessert candles from J'Adore Candles & More
With names like Sugar Cookie, Coffee Lover, and Strawberry Shortcake, I…..wait what was I saying? I be hongry now
Why we love this small biz: The owner, Moshika White, is a local entrepreneur who loves making candles and scents and sprays with Louisiana Flair! She also offers a RECYCLING PROGRAM for all her containers!
Perfect for: People with noses!
Fun fact about Moshika: "I'm obsessed with cartoon characters, at one point I wanted to get a tattoo sleeve of my favorites…I still may, Tweety Bird already has started it off tattooed on me!"
Discount code: DOCTORJAYA for 15% off orders $30 or more!
https://jadorecandlesandmore.com
FB: J'adore Candles / Insta: @jadore_candles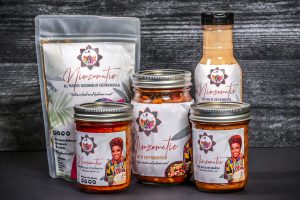 DROOLAPALOOZA! Niema's fashion and food sensibilities are the stuff of dreams, and this peanut butter sauce has my name on it! From her oxtail & grits to her catered Sierra Leone food experiences, this superstar fails to disappoint!
Why we love this small biz: This unapologetic queen has been knocked down but never out, and she always shows up to support the community! Also if you are a culinary challenged lover of food like me, THIS IS YOUR SECRET WEAPON! "It's the perfect gift set to enjoy with family. Knowing that you are cooking deliciousness without salt is the best gift anyone could give themselves this holiday season!"
Perfect for: Beginner to advanced chefs and lovers of spice and food in general and just $15 each!
Fun fact about Niema: "I'm a captain! I can drive a boat! I'm a woman of many hats."
Discount: Mention code DOCTORJAYA when ordering for 10% off
@RNLAuthentics on Insta or @RNLsCookeryCorner on FB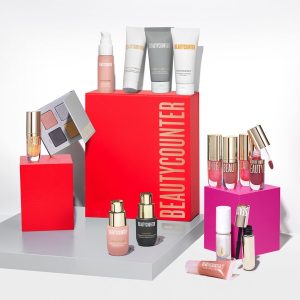 OR this Mini Beyond Gloss Vault with the perfect holiday shimmers! I saw sweet Darla at a local holiday market and got to check out her products! Beautycounter is one of the leaders in clean beauty, and since I have a toddler who can't stay out of mine, I am all about safe products!
Why we love Darla: She shared with me that it was trouble conceiving that led to her passion for clean beauty and staying away from toxic products. Such an open heart. <3 Our skin is our largest organ (giggity)! We have to treat it like the queen she is!
Perfect for: Your niece that's just getting into makeup or anyone that loves a pamper sesh! ALSO MEN! They deserve clean products that make them look and feel good too, and you know they ain't gonna buy it for themselves…
Fun fact: "I love to cook and bake!" (Lemme give you my address, Darla….)
Discount code: CLEANFORALL20 gives first-time customers 20% off!
Christmas shipping cutoff: December 13
Facebook: Darla Coile / Darla Coile for Beautycounter
Contact: Text or call 318-465-1174 for personalized recommendations!
I found Heather in one of my online lady doctor groups, and she told us about how she wrote this book both to assuage her guilt about missing time with her children in the time of COVID (RELATE) and to show kids they don't have to be anxious about wearing masks. It's a new world, but that doesn't mean our kids have to be afraid of it!
Why we love her: SHE'S A MOM DOC PSYCHIATRIST HELPING PEOPLE SURVIVE IN THE TIME OF COVID. Full stop.
Fun fact about Heather: "I did improv comedy for 5 years! I miss being on stage." 
Discount code: Amazon won't allow a personalized discount code, but you can get the e-book for just $2.99! Please leave a 5-star review so more people can see her book during their Amazon shopping experiences!
Connect with Heather: H.Goode@yahoo.com
Side note, I will be VERY UPSET if Santa does not put these in my stocking this year. Kathy Hume is a New Orleans-based mama and papercut artist who makes THE CUTEST MOST WHIMSICAL WATERCOLOR AND INK BOOKMARKS EVER AND I CANNOT STAND IT.
Why we love this small biz: DID YOU SEE THE CATS WHO READ BOOKS BOOKMARK?!
Perfect for: Book lovers and anyone with a sense of whimsy and imagination! 
"The Cats Who Read are a trio of literary felines who love a good story, peeking out over the pages, and knocking things off your side table. We also have three peculiar creatures, celebrating the simple joys of flying a kite, splashing in puddles, and feeling the wind and sun on a sailing adventure!"
Fun fact about Kathy: "When I was 10, I met Mary-Kate and Ashley Olsen on a Disney Cruise and it was the pinnacle of my young life. Mary Kate asked me where I got my bracelet, I responded "um um um um" until my mom exclaimed, 'She got it from the gift shop!'"
Discount code: MCCHRISTMAS for 15% off
@scribblefrizz on FB + Insta
I got the earrings for myself because of course I did and this elephant for Ari, and it is SO STINKING SOFT I MIGHT NOT GIVE IT TO HIM. Whatever he has enough toys!
Why we love this small biz: I met Madeline and her mama at a holiday market, and I had to be treated for a diabetic coma afterward because they are so sweet. If you just watch her stories on Insta you'll fall in love, and I gotta tell you she is just as sincere in person as she is on social. Plus the products she curates are meant for my pocketbook. She describes her style as "southern charm plus aloha spirit." This has been a dream of hers, and she went for it! Too good!
Perfect for: Anyone who loves classic or statement jewelry! BONUS: She offers complimentary Facetime PERSONAL SHOPPING. WHAT?!?!
Fun fact about Madeline: She got to live like a local on Kauai in Hawaii while interning for 2 summers during college!
Discount code: Use code DOCTORJAYA for 20% off your entire order 
@shophibiscushoney on FB + Insta  
The Agora Borealis has been a favorite of mine ever since I went there frantically searching for a Jane Ryder fascinator for Derby Day! It's the day I met one of my favorite people ever, Katy Larsen, and discovered her passion for supporting local artists and entrepreneurs. Every single item in Katy's store is from an independent artist. Let me repeat: Every. Single. Item. She is a beacon for dream-followers in a world trying to keep them down, and we are all better off for it! 
Why we love this small business: Through economic depressions and COVID downturns, The Agora never says die! Not only that, they put on the annual Fashion Prize event creating a national spotlight on burgeoning fashion designers from all over the country. 
Perfect for: The art lover or the hard-to-shop-for person on your list. Come in person for a curated shopping experience with expert recommendations, or message them on Facebook for suggestions! They will ship nationwide!
Fun fact about Katy: "I can't pass up a photo booth! Lol! Also, our building was made in 1927."
Discount code: DOCTORJAYA for 15% off ANY ONE ITEM in the marketplace! Mention at checkout.
@theagoraborealis on FB + Insta!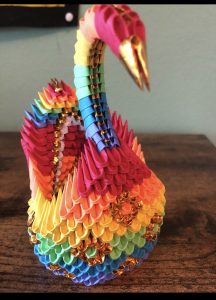 I didn't know I needed a rainbow pride origami swan in my life until I saw this beautifully constructed piece. I like pretty things and I like pride. Also these string doll keychains are freaking adorable and made completely out of yarn! The perfect little stocking stuffer!
Why we love this small business: Hailee was originally born "An" in China before she was adopted and brought to the US at the age of 2. So her origami is literally paper "An" folds! #clevergirl
She #startedfromthebottom of the streets of China, and now she's here. This woman is an artist, a fighter, and a grace to all who know her! 
Perfect for: Someone who just loves beautifully handcrafted, unique pieces! 
Fun fact about Hailee: "I've been folding paper for just over ten years!" Also, one swan is over 500 pieces of HAND-FOLDED paper that is carefully glued together – the process takes 2-3 days!
Discount code: DOCTORJAYA for 10% off
Website: https://www.etsy.com/shop/PaperAnFolds
@PaperAnFolds on FB + Insta 
Ashley is a clinical director over the med-surg floor at her hospital (and a damn good nurse, too) who started making bracelets to help deal with anxiety. As soon as people saw them, they wanted their own, and boom! A business was born!
Why we love this small business: She's a nurse, a clinical director, a mama, and a ginger! Also: "It wasn't meant to, but this is actually what's going to help pay for my next fertility treatment!" Ashley has been open about her struggles to conceive and has a beautiful boy named Fisher Reed, and now her wonderful family is ready for a sibling. BUY BRACELETS FROM ASHLEY PPL
Perfect for: Anyone who loves shiny things, from kids to adults! Who doesn't love custom presents?
Fun fact about Ashley: She is a Daisy Award winner for being one of the best nurses in her entire hospital system! Despite her claim that she's "basic!"
Discount code: DOCTORJAYA for 10% off orders $30 or more!
How to order: TEXT ONLY 318-584-3435 with names, color, and how many bracelets! She will ship! 
People, DON'T SLEEP ON YOUR HAIR CARE! I love Chemistry Hair Salon because they offer Fashion Week-level hair service with small-town hospitality. It's like being treated like Bella Hadid except it's by your best friend who is also a hair genius.
Why we love this small business: None of the stylists here ever meet a stranger. Founder Bryan Sullivan also offers each stylist a path to their own career and business ownership, truly living the example of "A rising tide floats all boats!"
Perfect for: Anyone with hair! This is the stuff WE LOVE TO GET but never get for ourselves! Glamorous AND practical.
Fun fact about Chemistry Hair Salon: Chemistry's been named one of the top 200 salons in North America for eight of its 13 years.  
Discount Code: DOCTORJAYA at checkout for 15% off all holiday gift sets! (So you can get one for yourself, too!)
@ChemistryHairSalon on FB & Insta 
Contact: (318) 868-1012
This one's for us, mamas. Did you know after age 25 we start losing 1% of our collagen every year, and it drops even more dramatically when we hit 40? RUDE? I started using this liquid collagen after a checkup with my functional medicine doctor, Dr. Karen Pendleton. She explained to me that I needed type 2 collagen so I could build the precursors for all the other types, which are the ones marketed in powder form and basically not doing me any good because of poor absorption. I blame you, Rachel Hollis! #girldrinkyourcollagen
Why we love this business: Modere is a clean product company that offers natural-based solutions with scientific backing, from coffee to cleaning products to skin and beyond. Toxin-free. 
Perfect for: Anyone with joints or skin. MUST TRY for 90 days to see the difference! I'm on month 2! 
Discount code: Use my referral code to get $10 off! 4274473 
These were a hot ticket item last year and FRICKIN DELICIOUS! At just $5 a pop, they are the perfect stocking stuffer and so beautifully presented!
Why we love this small biz: Lena has expanded her treats to include these amazing edible smash boxes that can house the perfect present! (Like hiding a ring or necklace!) She is in business for her second holiday season and going strong!
Perfect for: Co-workers, in-laws, Hallmark-movie watchers! Anyone who enjoys delectable sweets!
Fun fact about Lena: "I started my own successful business!" BOOM YEAH YOU DID
Discount code: DOCTORJAYA for 10% off your order!
Order: https://m.facebook.com/SweetCreationsByLena/ 
20. This
p
ersonalized life-coaching program
by  PHYSICIAN and functional medicine expert, Dr. Jennifer Singh #ladydoctorsrock
"My group program, Next Stage Upgrade provides Life, Weight loss and Fitness ONLINE coaching both privately and in a group of vibrant women, directed by a doctor with training in nutrition, fitness, and life coaching. "
Why we love this small business: If I had a nickel for every time someone told me, "You have GOT to meet Jennifer Singh!" I would have like a million nickels. Dr. Singh pairs her impressive medical training with her passion for helping women live with vitality, focus, and good health – especially women over 40!
Perfect for: ANY woman 40 or over! Honestly, what woman do you know that doesn't want to live her best emotional and physical life? And needs some help doing it?!
Fun fact about Jennifer: "I can make a huge Indian meal from scratch; I LOVE to invent plant-based recipes that require no chopping and minimal work (I'm a SUPER-lazy cook now that my kids are older!) " #womanaftermyownheart
Discount code: Purchase a 6-month coaching program, get 2 months FREE with code DOCTORJAYA
How to book: Through her Facebook page or e-mail drsingh@jennifersinghmd.com
Dr. Moran isn't local to Shreveport, but I had to include her because I LOVE THIS FACIAL KIT! My skin always glows after it and feels so good. I order one and split it with my mama for some girl time. This is truly medical-grade skincare at home that feels like you had a million-dollar facial!
Why we love this small biz: Dr. Moran is a fellow lady doctor who made the pandemic survivable by putting together this kit for us! She's double-boarded in anesthesiology and interventional pain management but still made time to follow her dream of opening a medical spa. A wonderful role model for her two sweet girls!
Perfect for: Anyone with skin
Fun fact about Dr. Moran: Dr. Moran is a huge animal lover and equestrian! She has a beautiful horse named Gigi, a Bernedoodle named Coco and two cats – Pitsy & Josie. 
Discount code: DOCTORJAYA for 20% off!
Website: drmoranmedspa.com
@dr.reneemoranmedicalaesthetics on Instagram 
You can trust that this book is amazing because that rag The Economist said so or because the book mentions Britney Spears. Your choice.
Why we love this author: I have to because he's my amazing, so-good-to-my-sister brother-in-law, but you can love him because he's going to put all your pseudo-intellectual friends in their place with his actually smart book. Plus, he was on a zoom event about his book being interviewed by Lieutenant Colonel Vindman, as in the retired army officer who testified against the President at great risk of DC peril because it was the right thing to do. Effin yes.
Perfect for: that friend who acts like they know everything but will never actually read this book and then you can call them out on it; also anyone interested in politics, the economy, or general corruption run amuck in our backyard #amuckamuckamuck
Fun fact about Casey: He has a huge batman tattoo and loves hairless cats. One of these facts is me trolling him.
Discount code: No code, BUT you can get the chance to win a book for free at this Shreveport book signing December 20th at the Agora Borealis. Or order a book and bring it to get signed! Plus, you might get to meet the editor of Teen Vogue. Shoulder shrug emoji with brown girl
Website: https://us.macmillan.com/books/9781250274526/americankleptocracy
Follow Casey: @cjcmichel on Twitter & Insta 
Why we love this vaccine: Have we met? 
Perfect for: Frontline workers who spent the last 2 years risking their lives and stuff. Also, Santa who let's be honest is probably high risk from serial chimney exposure and needs your protection. Also excellent for people who hate pandemics and enjoy peace on earth, goodwill towards men, that whole thing.
Fun fact about the vaccine: It works! 
Discount code: It's free! 
Website: vaccines.gov
Or the pinned post on my page, facebook.com/thejayamcsharma !??!!
Erika Hand is a Mexican-born artisan who loves making authentic textile pieces. I first met her at a kids' birthday party where she was performing traditional Spanish dances for the crowd!
Why we love this small business: It's in the description! "Feminine Mexican textiles with unique embroidery and handmade jewelry"!!! Plus, I just went to the Frida Exhibit at the Norton AND watched the Salma Hayek biopic to prepare and now all I want is to be 0.0001% as cool as her.
Perfect for: Frida lovers, art lovers, world lovers
Fun fact about Erika: She is a preschool teacher who loves teaching her daughter traditional Mexican dances and performing with her!
Discount code: Mention code DOCTORJAYA for 10% off your order!
To order: Visit her Facebook page or e-mail dahliacollectionusa@gmail.com
That's all for this year! Share and like the #12DaysofMcChristmas on Facebook or Instagram. <3
XOXO,
Dr. Jaya