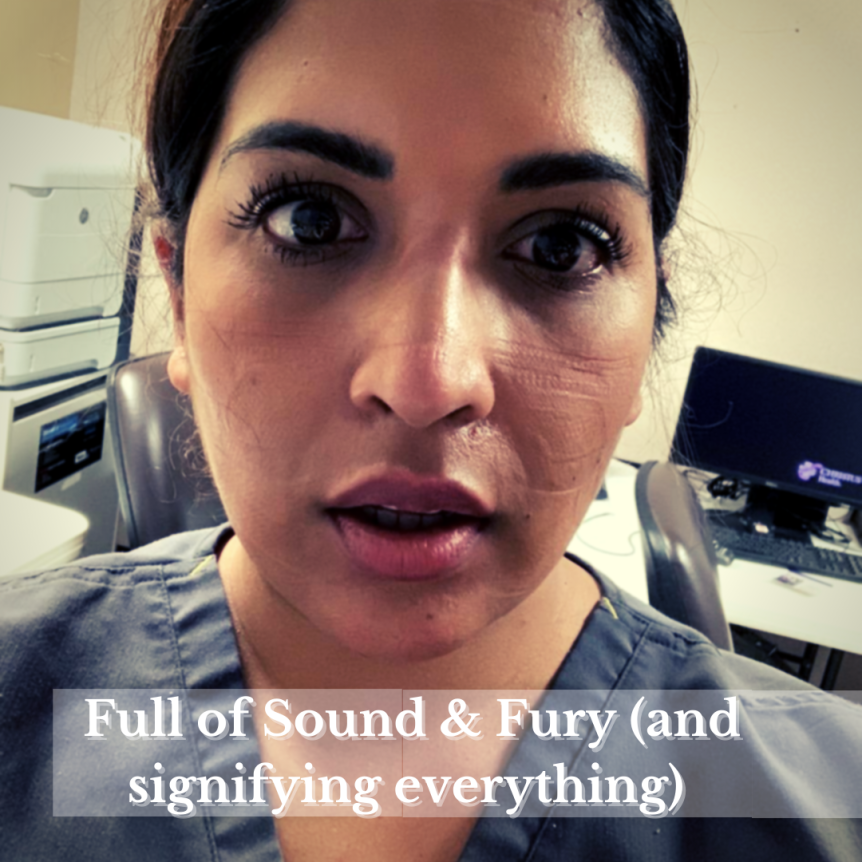 Full of Sound and Fury (and signifying everything)
I haven't been doing well. And I'm talking about too-depressed-to-even-post-on-Instagram-about-how-depressed-I-am-with-a-shoutout-to-mental-health-awareness level bad. The only reason I'm even able to write this blog is because after a week of some drastic measures (see also: tending to things long overdue requiring my attention), I feel better enough that I can see the sun trying to peer into my well-worn foxhole.
There are a lot of obvious reasons for my rapid descent, notwithstanding the ten straight days (years?!) of grey weather that made my eyeballs want to disintegrate; but it's much more than the need for (at least ten) phototherapy lights.
As of January, I've been watching people suffer and die – from a disease that half of the public doesn't vote like is real – for TEN MONTHS. TEN MONTHS of crying with families. TEN MONTHS of gut punches when people look me in the eye and ask, "Doc, am I gonna die?" TEN MONTHS of phone calls trying to help loved ones stay positive without cushioning the truth so much that it becomes obsolete.
Ten months of coming home dejected and hopeless, only to see my own friends and loved ones debate the efficacy of masks, post such inane and insane things as "If 99% of people survive, why are we so worried about it?" and make comments in support of keeping high-contagion establishments open when cases are out of control in a community.
IT IS TOO MUCH FOR ANY EMPATHETIC HUMAN TO BEAR. To those who would "Free Louisiana," I want to say: YOU DO IT. THEN YOU COME F**KING DO IT. YOU COME PUT YOUR HUSBAND AND ANGEL SON AT RISK EVERY DAY JUST BY GOING TO WORK. YOU COME WATCH SOMEONE LIVE FOR THREE WEEKS TIED TO A VENTILATOR ONLY TO HAVE THEM DIE ANYWAY. YOU COME HELP THIS PATIENT FINISH HER TEXT TO HER DAUGHTER THAT SAYS, "If you don't come see me soon, I'll be dead."
YOU DO IT. YOU. F***ING. DO IT. YOU FIGURE OUT HOW TO GIVE THESE PEOPLE A GOOD DEATH. Spoiler alert: it doesn't exist.
YOU FIGURE OUT HOW TO TELL A FAMILY THEIR LOVED ONE HAS SURVIVED BUT MAY NEVER BE THE SAME. YOU DO IT.
Because I actually did NOT sign up for this. When I was choosing residencies to apply to (despite my still-in-motion plans to not be a doctor and be an actress/writer/interview mogul instead), I specifically ruled out hematology-oncology because I DID NOT WANT TO WATCH PEOPLE DIE FOR A CAREER.
But even a cancer doctor sees better days than this. With cancer, there's an expected trajectory; there is usually more than one option; and if medicine can be of no curative benefit, there is time, pain relief, hospice care, and comfort in moments spent with loved ones. There's a plan.
COVID patients don't get that dignity.
I can't forget Mr. "John." John came in, sweet as pie, to the corner room of the ER. I can still see him sitting there, not short of breath but requiring oxygen, looking comfortable in his weathered LSU windbreaker, smiling like he just left his family's Sunday barbecue and was just stopping by the hospital to say hi. I told him he looked great, that we would give him everything we had to treat COVID, explained he would be in the hospital a few days, and elbow-bumped him after he graciously thanked me.
Two days later I was at his bedside, reassuring him that everything would be okay but we just need to use this BIPAP mask to help his lungs get more oxygen, telling him to hang in there and try to relax, and did he want me to help him FaceTime anyone?
Two days later he was exhausted, still on the BIPAP, not getting any good rest because how could you when a machine is shoving air into your face?, and weary with embarrassment from not being able to even get up and go to the bathroom because it would lower his oxygen too much for too long.
He had to lie on his side to improve his oxygen levels. With COVID patients we use a technique called proning, which is patients lying on their belly because it helps with their oxygen levels, but Mr. John couldn't find a way to do that comfortably, so we laid him on his side.
I checked on him before leaving after one of my shifts. The nurse said he had been calm all afternoon and had no complaints. When the doctor walks in, however, sometimes patients change their tune a little bit, and this was one of those times.
He shifted as much as he could to look at me, tied to the machine that was keeping his breath alive. (It's called "non-invasive" ventilation, and it's the step right before you're intubated and technically on life support. We avoid that for COVID patients until it's the only choice left because most never come off the ventilator.)
As soon as he saw me, his face became red and he started sobbing. Like I was a trusted friend he could let his guard down with.
The image I will never get out of my head is his sweet, friendly face, crumpled with fear, having his own tears being blown back into his face by the force of the BIPAP air.
He couldn't even cry right.
COVID wouldn't even let him cry.
We took the mask off, for a few seconds, so he could ask me what he wanted.
All he could get out between sobs was, "I'm so scared."
Gut punch. He had every right to be scared. This God-forsaken disease. This f**king unpredictable, confusing disease with no consistent, effective treatment.
What could I do? I lied.
"Mr. John, don't be scared! Look at your oxygen levels, man! 90% and above? Hello overachiever!"
I held his hand and lied some more.
"You are going to be FINE. But you have to wear this mask and hang in there for me. I'm gonna get you home to your family, and you're going to watch an LSU ballgame again. I am going to give you everything I've got to support your body, but I need you to do your part and know that you are going to get better. Can you do that for me? Can you trust me?"
He nodded yes. I asked the nurse to give him something to help him rest. I told myself that I didn't lie because it was possible for him to recover still, and if he gave up mentally that wouldn't help him anyway, right?
Two days later he was on the ventilator. Three days later he was dead.
He saw his family once in three weeks before he died.
He died the day after I went off service, and I can't tell if I'm grateful for that or not. On one hand, I don't think I could have erased the image of his gregarious face no longer breathing life from my mind. On the other hand, I would have liked to place my hand on his forehead and tell him that I loved him and that I'm so sorry this happened and ask God to please take care of him and his family.
Like I do with all my COVID patients that don't make it.
Would it help to scream, I'M SORRY WE FAILED YOU?
I'M SORRY PEOPLE ARE SUCH ASSHOLES THEY WON'T WEAR A CLOTH OVER THEIR FACES TO PREVENT SCENARIOS LIKE THIS?
Because you might think, oh Dr. Jaya, no wonder you're depressed! If I had 20 cases like that, I would be too! But that's not what tipped me into the hole.
It's the people that refuse to take responsibility and help.
It's the assholes marching on the capitol in Michigan. (Not to mention the assholes who stormed the Capitol because their snowflake butts don't understand losing an election.)
It's the idiots on social media. It's the fake news perpetuating that the vaccines aren't effective. It's people with no medical expertise literally offering medical expertise.
It's that damn "Free Louisiana" sign outside of a pie shop on Youree Drive.
It's needing – NEEDING – to say to my two oldest friends, who refuse to answer me when I ask if they voted for Trump, YOUR VOTE HURT ME. You may have voted for lower taxes or [insert economic rationalization here], but YOU VOTED TO CONTINUE MY PAIN AND RISK OF DYING. Your vote endorsed a man who OBJECTIVELY made the pandemic worse while I risked my life, held maskless rallies while I struggled for metaphorical air, and ridiculed life-saving precautions while I held Mr. John's hand and lied to him as he died.
(Inner voice: don't go there Jaya) (Louder voice: if not now, when?)
This is the same shameful man who, when governors of states were FOLLOWING THE PROTOCOLS PUT OUT BY HIS WHITE HOUSE PANDEMIC TASK FORCE, tweeted, "Free Virginia! Free Michigan!" or whatever because it got him social media applause and popularity. Like a young child who does whatever makes the adults around him clap. Like, dude, they're just doing what your task force SAID TO DO! WTF?
And if my sacrifice doesn't mean that much to my friends, who I've known for half my life or more, who know I went to battle COVID with no guarantees of my own survival with a 6-month-old at home….how can I expect the rest of the country to care?
I don't have a nice tidy bow with which to wrap this up. Only a lot of anger and pain. But if this last week has taught me anything, it's that unexpressed pain is poison. I have told everyone how I felt on social media but not the people in my innermost circle because it's the most uncomfortable. It's much easier to post a diatribe on Facebook where mostly echo chamber friends will like and applaud than to pick up the phone and call my friend to discuss whether our values are the same anymore.
But I've discovered that having that conversation, as emotionally labor intensive as it is, is still less work than keeping this hurt inside of me because I can begin to smell the rot, and it makes me feel like I'm walking in mud.
And so I'll fight. I'll fight to feel good again because even though in my lowest moment, I don't want to feel better, I know that that voice is a lie, as tricky and deceptive as COVID itself, and the greater Jaya inside of me deserves better. I'll express the hurt to my loved ones. I'll go to therapy. I'll take my antidepressant – hell I'll double it. I'll force myself to move my body. I'll force myself to write. I'll force myself to breathe. I'll keep doing those things until they start to work. Because this is an all-hands-on-deck situation. A pandemic in a year of political divisiveness, treasonous terrorism, and fake news-believing COVID spreaders? Where the people who do the right thing are rewarded with isolation, betrayal, and the weight of social responsibility that their neighbors refuse to take on? YEAH, GUYS, IT'S BEEN A F***ING YEAR. So it's okay if "New Year, New Me" isn't quite taking. Acknowledge the hurt. Fall down. Feel every ounce of it. Then get up and fight. I am right behind you
The views and opinions expressed in this blog belong to Dr. McSharma and not to any hospital or organization as a whole. She speaks for herself. Patient details have been changed to ensure privacy.