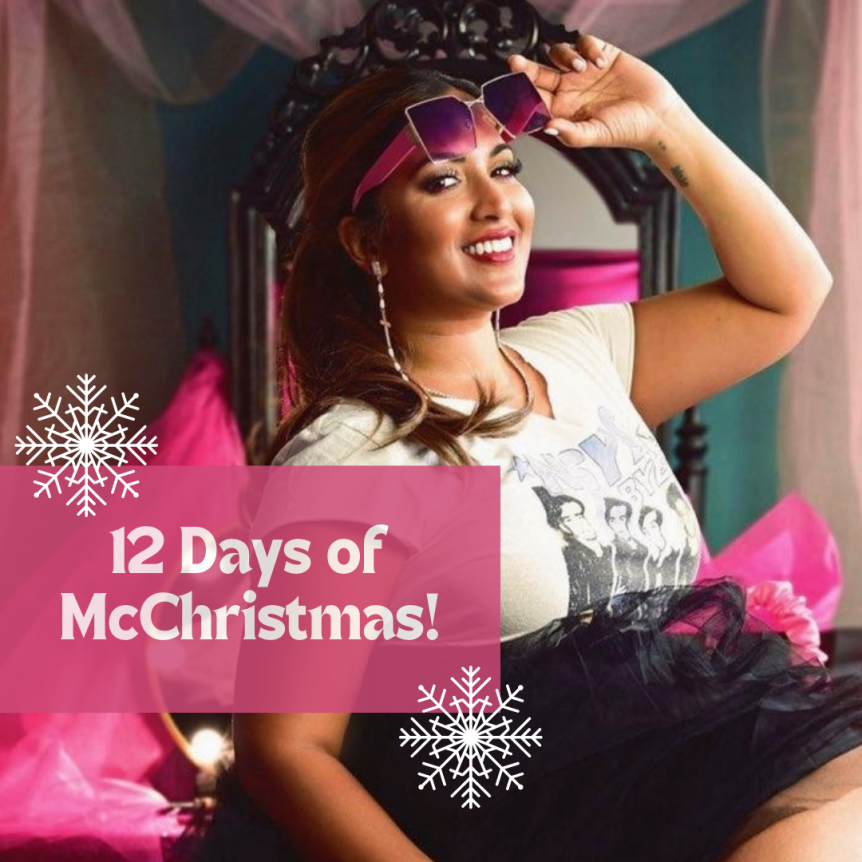 12 Days of McChristmas: Jaya's Favorite Things 2022!
YO HO HO AND A BOTTLE OF HOT BUTTERED RUM! #McChristmas2022 is HEEEEREE!
It's #Year3, so you know the deal – the best small businesses, the best presents, and the best way to #supportlocal!
TIPS:
Bookmark this page & share this list with everyone you know, obvs!
ORDER EARLY – many of these are custom pieces with limited inventory and early cutoff dates for Christmas so GET TO IT! All time-sensitive items will have a ✦ symbol next to them.

USE THE DISCOUNT CODES
USE THE DISCOUNT CODES
          USE! THE! DISCOUNT! CODES! – This is how we keep track of how much we've helped, and we use that data to improve next year's process! Even if you don't want the discount because you love the small business (JUDY), TELL THEM HOW YOU FOUND THEM!
😍 WITHOUT FURTHER ADO….PRESENTING YOUR #MCCHRISTMAS CLASS OF 2022!
(P.S. This ✦ icon means TIME-SENSITIVE!)
The perfect gifts for your…..BESTIE!
Tki Francis is the owner and designer of this Fashion Prize finalist boutique and offers ready-to-wear apparel as well as custom designs you won't find anywhere else! A Shreveport native, she currently kicks fashion a$$ in NOLA!
How to shop: Realgunkie.com
DISCOUNT Code: RG10 for 10% off
Facebook: Tki Francis of Real Gunkie / Instagram: @realgunkie
If you don't love your bestie enough to spoil her dogs, do you even love your bestie?! These cozy couch beds are hand-sewn, one-of-a-kind, and made of sustainable, recycled, breathable fabrics for your pup! (or KITTY!) They are rolled up and travel-friendly! ALL PROCEEDS GO TO LOCAL ANIMAL SHELTERS.. FULL STOP. Down Dog has donated $6000 to date! Y'ALL MY HEART
How to shop: Directly on Instagram, click here.
DISCOUNT CODE: DOCTORJAYA for $5 off
Instagram: @down._.dog
3. HA Boost from Dr. Rene Moran, a double-certified bonafide lady doctor outta Boston whose at-home facials SAVED my COVID-era skin!
Dr. Moran is a #McChristmas 3-peater because her products are so, so good. The HA boost is great for all skin types and keeping the skin hydrated.  It's liquid filler in a bottle!  Hyaluronic acid holds 1000 times its molecular weight in water and keeps your skin looking refreshed. Pick up an HA Boost for extra dewy, youthful skin all year long!
How to shop: CLICK HERE.
Discount code: DOCTORJAYA10 for 10% off
Insta: @dr.reneemoranmedicalaesthetics/ Dr. Renee Moran Medical Aesthetics (Facebook)
4. These

crazy eye ornaments

by local artist Jeremy Johnson!
Jeremy is the proprietor and owner of Red1 Salon as well as an amazing artist in his own right! These ornaments are perfect for your quirky bestie (it's me, I'm your quirky bestie) to spruce up their Christmas tree with something one of a kind.
How to order: Contact on IG @hooligan.318! Ornaments are $15 each or 6 for $75.  He also has these super cute mix mod starburst ornaments available!
Discount: Use the code Doctor Jaya for 10% off.
Y'all know I LOVE my cats (and your dogs), but I do not have the time/energy/inclination/sobriety (what? jk?) to groom them, especially when it comes to cutting their nails!
I literally WISHED UPON A STAR that someone would offer home services for my cats (and your dogs) and POOF! I met Alyssa that week! #thanksuniverse
Can you imagine the look of love and appreciation on your BFF's face when she sees a gift certificate from In-Home Pet Services? I know nothing warms my heart like presents for my fur babies!
How to order: Contact @inhomepetservices_llc on Insta or Facebook, or call (318) 507-8215. "Spa package for dogs worth $70 at your home includes: nail trim (dremel), anal gland expression, bath, and ear cleaning."
Discount: DOCTOR JAYA for 10% off! Insert inappropriate joke about anal glands here…haha insert
The perfect gifts for your…..KIDS! OR YOUR FRIENDS' KIDS!
This racetrack from Discovery Toys is the ORIGINAL marble racetrack. Ari (my 3-year-old) may or may not have played with it for 45 minutes at Les Boutiques De Noel!
Guaranteed to keep them engaged for hours; With Discovery Educational Toys, they can't break it, but if anything happens it's covered and would be replaced (LIFETIME GUARANTEE – HEYO!)
How to order: Visit Julie's website here or text/call 281-216-0257. You can SHOP BY AGE! WIN-WIN! No figuring out, "Uhhh….so what does a 7-year-old kid like again?"
Discount: Text DOCTORJAYA to 281-216-0257 for a 10% rebate!
7. A CUSTOM LETTER FROM SANTA!
Michele Trice is a professional writer who refuses to give up on the magic of Christmas. For as little as $12, you can get a professional, PERSONALIZED letter from Santa that will light up a child's eyes! She puts so much love, care, and specifics into these (even offering options for those with learning disabilities or dyslexia) that it truly is a magical gift that will be remembered for years to come.
How to order: Fill out this google form! MUST ORDER NO LATER THAN 12/20!
You can even order for groups and classrooms!
Discount: DOCTORJAYA for 10% off!
How to pay: Venmo @michele-trice
This is a passion project by 9-year-old Sophie who started this non-profit project to raise funds for children in need! All proceeds will go to buy Christmas gifts for children in need, including a 3-year-old and a refugee child who was relocated to Shreveport for safety.
She also adopts children for back-to-school supplies and uses the money she earns year-round to help kids in need! (I'M NOT CRYING YOU'RE CRYING AND ALSO I'M CRYING)
How to order: Visit her Etsy shop.
Discount code: DOCTORJAYA for 10% off!
9. ✦ One of these custom keepsake bears from designer and 2022 Fashion Prize finalist

Donna Strebeck.

✦
Listen I wore this leopard muumuu for YEARS. It was falling apart; I had people begging me to throw it away. I had friends and boyfriend(s) throw it away only for me to take it back out of the trash. She was legendary. I finally gave her up and got TWO AMAZING CUSTOM KEEPSAKE BEARS OUT OF IT!
The PERFECT legacy gift for children (or adults) using a loved one's iconic fabric or old clothing, Donna says, "It blesses me as much as the recipient to be able to create something to help keep their loved one's memory alive."
Yeah, she really is that sweet.
How to order: Message donna.strebeck@yahoo.com; find her online on Facebook or @donna.strebeck on IG!
Discount code: DOCTORJAYA for 10% off!
✦TIME SENSITIVE✦ Orders must be in by Dec. 16 to be ready for Christmas!
The perfect gifts for…TEACHERS! (or anyone who makes your life easier all year round…security guards! Babysitters! Co-workers! MAILPEOPLE!)
10. This might be my favorite section because they are such lovely tokens of appreciation that could be enjoyed by pretty much anyone – like this gorgeous headband + hand-painted wine glass combo from

Lillie Sue Boutique

.
For just $38, you can choose one of these three GORGEOUS VELVET OR BEJEWELED headbands + one of these christmas-themed wine glasses and have the perfect gift in hand in a pinch! A STEAL considering either item could go for $38 alone! You can pick it up from boutique owner Kristen Roohani at her King's Antique location OR have it shipped as long as your order is placed by 12/20.
How to order: Message Kristen on Facebook or stop by her store at 133 Kings Hwy!
Discount: Use code DOCTORJAYA for 10% off!
Formerly Ben's Body Basics, Clean Slate Botanicals has clearly leveled up the game! Ben is a 3peat #McChristmas honoree, and with good reason – he hustles, he bustles, he blows the bad vibes away! Everything Ben makes is non-toxic, eco-friendly, and made right here in Shreveport!
With over 40 hours of clean burn time in a beautiful, hand-crafted concrete vessel, I can't think of anyone who WOULDN'T love this gift! Let it Sneaux!
How to order: cleanslatebotanicals.com or visit the brick-and-mortar shop at 717 Crockett!
Discount: Santa Ben has generously offered 15% off with code DOCTORJAYA! GO WILD!
12. COFIX. FOR EVERYONE.
This antiviral nasal spray features hospital-grade iodine plus vitamin D3 for your nose holes! One spray in one nostril offers up to 8 hours of protection from contracting respiratory viruses this COLD and FLU and COVID and RSV SEASON!
COFIX is a mainstay in my car so I never forget to spray before going anywhere. It retails for $24.95, but my king and hero, pharmacist Raaed Hasan, is offering it for $19.99 at the Highland Clinic Pharmacy.
Add COFIX to ANY present to help keep your favorite people well. SUPER THOUGHTFUL for teachers, especially! #kidslovetospreadgerms
How to buy: Visit the Highland Clinic Pharmacy at 1455 E Bert Kouns Industrial Loop, M-F, 8:30-5:30. Or message them through their website! Ph 318-798-4612.
Discount code: Raaed is generously offering COFIX for $16 with code DOCTORJAYA at the checkout counter – good until Christmas! STOCK UP PEOPLE! That's almost $10 off retail!
13. This adorable holiday tumbler gift set which features a high-quality BPA Free Acrylic Tumbler PLUS a crystal votive holder and an ornament.
Shout out to the genius of Christy Dee Creative – it's also a screw top with a straw! Meaning if you're surrounded by a bunch of threenagers, it's harder to spill! Christy loves putting the sparkle back in things we use in our everyday lives, and I love her for inspiring us with her "never too late" journey – she's a joyous entrepreneur sharing her gifts after dealing with years of complications from her Crohn's diagnosis.
How to order: Text or e-mail Christy Dee: 318-517-1510 or christydeehicks@gmail.com. ONLY 24 tumbler sets in stock! Order by 12/21 for nationwide shipping and 12/22 for local delivery.
Discount code: This gift set goes for $35, but you can get it for $5 off or more using discount code DOCTORJAYA.
14. One of these wiremen sculptures from local artist

Little Wire Bird.
Adorable, unique, and perfectly desk-sized, these #birdmen wire sculptures from James Marks are a perfect teacher present! Check out James' Instagram, @littlewirebird for options, and keep in mind he has a limited series of only 40 available. This means your gift recipient is getting something that can be found nowhere else!
James has done art installations all around the city and is designing for the new Bakowski Bridge of Lights! Also hosts classes for children in the community to inspire art-making at any level. Dawwwww.
How to order: Message him on Instagram.
Discount code: DOCTORJAYA for 15% off and FREE SHIPPING ANYWHERE IN THE U.S.!
Jennifer Veal is a nurse by day and a craft addict by night and can make ANYTHING OUT OF ANYTHING. I asked for all my cats on a tumbler with the hashtag #WallytheWeedCat and she SERVED. IT. Custom t-shirt with my Ari and a beautiful mama bear saying? DONE IN A FLASH.
If you think I'm above making an Ari-and-Ms.Dawn tumbler to give his teacher for Christmas, you are mistaken. PLS LOVE MY CHILD THE MOST
(This could honestly be filed under perfect gifts for your bestie or your mom or your MIL…the possibilities are endless!)
How to order: Send your custom art for t-shirts, ornaments, or tumblers in to Jennifer through her Facebook page, e-mail sawdust.silhouettes@gmail.com, or text/call 469-233-6534.
Discount: Use the code DOCTORJAYA for 20% off!
CUT OFF DATE FOR CHRISTMAS ORDERS IS DECEMBER 10th!
And now for the potentially hard-to-shop for…the perfect gift for your MOTHER-IN-LAW!
Picturing my mom's handwriting detailing her samosa recipe on carved wood…OMG WHY AM I EMOTIONAL RN? I mean Indian women don't really keep recipe cards ("I just do what I know!") but for the rest of us, this sentimental gift is too perfect for words. Recipes can also be printed on tea towels!
How to order: Order online here! (songbirdgrove.com) Order by 12/14 for nationwide shipping; 12/18 for local pick-up!
Discount code: DOCTORJAYA for 10% off!
17.✦This 1956

Louisiana License Plate Mug

from Red Star Pottery. LIMITED INVENTORY!✦
These iconic mugs were such a hit last year, we begged the Biases to let us bring them back this year for #McChristmas! I have followed Christine and Curtis Bias' mom-and-pop pottery business since the beginning, and they continue to evolve and awe me with their creativity and thoughtfulness. I'm so happy to see good people succeed!
How to order: Message them through their Facebook page or visit The Grove downtown! They also have beautiful handmade bowls that would look amazing on any mom-in-law's Christmas table!
Order by December 15th to guarantee Christmas delivery!
Discount code: 10% off with DOCTORJAYA
18.✦Make your MIL feel like the hot fab sex kitten she is (inapprop?) by giving the gift of confidence – with a pop of luscious lashes or healthy, shiny hair!✦
Whether it's hair loss from COVID or from the grace of getting older, volume loss is a big deal. I myself was diagnosed with hereditary androgenetic alopecia at age 15 and have been searching for help ever since then. I started the Rodan + Fields volume regimen and am excited to be guided by the master, Mandy Jordan Smith, who is always a text or phone call away <3
Also these are my lashes on Lash Boost, the #1 Lash Serum in America for 2021! Yeah.
How to order: You can buy directly through Mandy's website or message her on Facebook with questions! Don't forget hair help for dudes, too!
✦ Christmas delivery with these items for ground orders will have to be placed by Dec 14th. ✦
Discount code: DOCTORJAYA for 10% cash back rebate 🙂
19. One of these

Nimzomatic All-Purpose Seasoning Blends from RNL Cookery Corner

. Your MIL's cooking is already delicious, now help her go salt-free to get all the flavor with none of the blood pressure probs for FIL!
You know Niematulai diGrazia (recent name change, HOLLERRR! #newlyweds) as a fashionista and designer, but her RNL Cookery Corner food truck has lit up the city with Sierra Leone-style deliciousness.
DOCTOR JAYA-RECOMMENDED AS IT IS SALT-FREE! WHAT! Goes on everything. Try me.
How to order: Message RNL Cookery Corner on Facebook or text/call 318-990-9916.
Discount: Code DOCTORJAYA for 5% off the first bottle and 10% off the next! BUY IN BULK PPL!
And now…it's time for the pretty shiny things..the perfect gift for your LOVAH!!!!!!
Mark me down for YES MA'AM PLEASE AND THANK YOU. You can spend $850 on ONE piece of Chanel jewelry or you can spend half that and get SEVEN PIECES OF CUSTOM JEWELRY with four guaranteed vintage designer pieces. Bracelets and swaggalicious chains work for men, too, people!
Anna B (whose story is incredible) upcycles vintage designer pieces (Gucci, Chanel, Dior – oh my!) into timeless accessories that will twinkle forever in your beloved's eye.
Bonus? A portion of every sale goes to find the cure for Wilms' Tumor, a rare kidney cancer that took the life of Anna's beloved niece, Izzy.
Also, this hero was Anna's father. I KNOW.
How to order: AnnaBoisse.com
Discount code: DOCTORJAYA for $25 off your order!
Lauri Wallace turned a love of handmade jewelry into a second career after retiring from her work as a Human Resources professional. (Y'all know how much I love a passion career!) She makes handmade jewelry using precious metals and natural gemstones by transforming them into wearable art.
How to order: Check out her Facebook page here or order through her Etsy here. You can also visit justaskcreations.com!
Discount code: DOCTORJAYA2022 for an additional 10% off already reduced items.
✦Order deadline 12/16!✦
This affordable-yet-luxurious piece screams to me "BEAUTIFUL WARRIOR." It is stunning in its simplicity and delicateness – just like your favorite warrior wife or husband!
This Shreveport Gem also does kiln work AND scours the globe to find unique, sustainable, beautiful gemstones. Her passion is customization, so reach out with WHO you are shopping for, and she will pick the perfect piece with which to adorn your love!
How to order: Visit her website or message her through Facebook or Instagram.
Discount code: DOCTORJAYA for 10% off!
23. These

JAYA earrings

or this adorable

Erin Hat

from Geaux Chic Boutique!
YOU HEARD ME! JAYA EARRINGS! My life is complete lol. Maybe your beloved is the most stylish person you know but doesn't feel like it. Maybe you want to help them feel as good as they look in your eyes every day. GEAUX CHIC is here to help! All you have to do is contact them and this black-owned, woman-owned, cousin-owned business will put together the perfect gift box for your honey. Don't sleep on newsy hats and Fedoras for men, either!
How to order: Geauxchic.com! You can also message info@geauxchic.com or call 318-560-9888.
Discount code: DOCTORJAYA for 10% off!
23.5 LOL just a reminder not to sleep on Clean Slate Botanicals for gifts for your MAN! Whether it's

skin care

or

beard oil

, Ben's stuff is legit! Plus has everyone seen

Brandon Manning

, the King of Highland Krewe lately? He's aging in reverse, and he credits Ben's renewal serum! OKURRRRRR
The perfect gifts for…ANYONE! EXPERIENCES!
I saved some of the best for last. Do you know what everyone really needs? EXPERIENCES! (That don't take up space in the house lol!) Continue reading for the creme-de-la-creme of curated giftable experiences….
This is a gift – for yourself or for someone you love – that will radically transform how you perceive life. One of my favorite Hindi sayings is, "Yatha drishti, tatha srishti" – as you see the world, so will it be for you.
It's not about rose-colored glasses but about healing ourselves through telling our stories. Mary guides with expertise, compassion, and ease throughout this process. Whether you're someone who has always wanted to write that legacy book or you're just ready to heal the traumas of your past, Project 444 is for you.
I participated in Write 444, a four-day introduction to the process, and it was a FULL. SOUL. CONNECTION. EXPERIENCE. 🥲 Love wins.
How to order: Visit marythoma.com and choose from the 4-day course (just $44!) or the 3-month online program. Giftable to the person of your choice. With either purchase, you'll receive Mary's bonuses: How To Create Your Writing Altar, Powerful Writing Prompts PDF, and Mary's Conversations On Courage.
Discount: Code DOCTORJAYA for 10% off.
Mary's free newsletter: https://marythoma.substack.com/
25. THE GIFT OF A CLEAR MIND. You read that right.
Did you know you (or someone you love) COULD LEARN TO CONTROL AND MANAGE YOUR THOUGHTS AND EMOTIONS? Hypnotherapy is an amazing tool to help find yourself and create the life you want.
Know anyone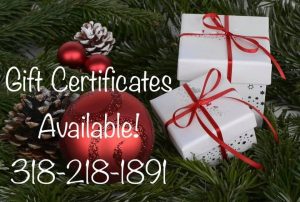 with anxiety, depression, PTSD, or ADHD? Anyone having trouble staying asleep or quitting smoking or getting healthy? (e.g., EVERYONE?)
Kim Warhurst, certified hypnotherapist, is the REAL DEAL. I know because I am her client! She got me out of a very dark place last December in just a few sessions. Her goal is to get people better and back to living life ASAP. As an aside, she's also probably one of the most caring human beings you will ever meet.
How to order: Get a gift certificate for a session for yourself or someone you love by contacting kimberlywarhursthypnotherapy@gmail.com or call/text 318-218-1891.
Discount code: $10 off your first session using code DOCTORJAYA. Most people will require 4-6 sessions. (NOT TOO SHABBY)
I DO NOT KNOW ANYONE WHO WOULD NOT HUG YOUR NECK FOR THIS GIFT. Julia Joyner is an expert at decluttering your space, organizing it for maintenance, and hauling off the crap you don't need! She is Santa in a bottle for every adult I know!
Just look at this before/after she did for my mom in Alexandria dealing with 42 years of clutter lol. Julia will travel from Shreveport for a 120-mile-ish radius! She does home AND business organization and has two amazing packages for the holidays: The Holiday Prep Package (one fast-paced 4-hour session to get everything ready to host for the holidays, $200); or the Power Purge (3 hours of decluttering only for $150).
We plan to adopt her into our family ASAP.
How to order: Find her on Facebook, call or text 318-840-4872, or e-mail julia@organizedchaoscoach.com!
Discount code: Holiday Prep and Power Purge Packages are only available for a limited time, through December 20th. Mention Dr. Jaya for 50% off of one regular 4-Hour Session for new clients only!
27. The GIFT OF WEED! LOL Y'ALL KNEW I WAS GONNA DO IT get outta hea!
WEED, YES WEED! Pain, arthritis, insomnia, anxiety, depression, cancer – CBD & THC can help with it all! Get your recommendation from a licensed medical doctor (me) who you can see in person and follow-up free with for a year. Gift it to someone you know who needs it but needs a little love nudge.
HOT TIP: TELEHEALTH MARIJUANA RECOMMENDATIONS WILL NO LONGER BE VALID AT LOUISIANA PHARMACIES FROM NOW ON. You must see the doc in person!
How to order: Call LaShonda at 318-464-6899. She done did it!
Discount code: Use passphrase "JC FROM *NSYNC IS THE BEST" for $20 off your consultation fee. GIFT CERTS AVAIL!
Don't forget to follow us on Facebook and Instagram because we do flash sales in our stories!
28. The GIFT OF AMAZING ART from The Agora Borealis.
Putting it here because ART IS AN EXPERIENCE, duh! The Agora Borealis is not only our partner in #McChristmas crime this year, but owner Katy Larsen devotes her passion to curating my favorite local maker's market in the SBC. (hearts) 
When civilizations crumble, art is what survives. It heals us and reveals us. You know it, I know it, your underpaid art teacher from elementary knows it. 
How to shop: In-person at 421 Lake Street or message The Agora Borealis on Facebook for curated recommendations.
Discount code: DOCTORJAYA for 20% off ONE PIECE OF ORIGINAL ART! Holy moly, that is truly incredible, Katy!
WELL WELL WELL, it looks like you've reached the end of the blog post! You are officially CHRISTMAS READY without shopping at one big box chain! Look at you! Who even are you anymore? You're amazing. We loved putting together this list of love for you again. Don't forget to give us feedback so we can improve every year!
XOXO,
Dr. Jaya and Jessica